140 years of innovation
Swiss Biotech Report 2021: Agility, leadership and innovation
Swiss biotech companies are making valuable contributions to coping with the COVID 19 pandemic, create new jobs, invest in innovative research and development. The industry is flourishing. This is shown in the Swiss Biotech Report 2021, which scienceindustries also contributed to.
Agility, leadership and innovation - New Swiss Biotech Report shows exceptional sector performance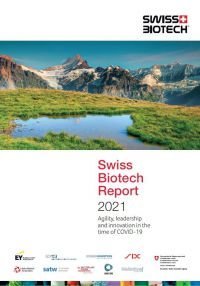 Whether in the development of rapid diagnostic tests, new therapeutic methods or vaccine production: Swiss biotech companies are making valuable contributions to coping with the COVID 19 pandemic. The research-based Swiss biotech companies have created 8% additional jobs within the year and employ a total of 16,300 people. First-class patent applications contributed to Switzerland's top ranking in the Global Innovation Index for the tenth time in a row. Capital investment in Swiss biotech companies almost tripled from 2019 to 2020, reaching CHF 3.4 billion. Investment in research and development (R&D) increased by ten per cent to 2.2 billion Swiss francs.
As one of the leading global biotech hubs, Switzerland was well positioned to facilitate international collaborations and develop solutions to combat the COVID-19 pandemic, and the sector saw record levels of investment in 2020. The latest edition of the Swiss Biotech Report launched today by the Swiss Biotech Association in conjunction with EY and eight other partner organizations provides analysis of funding, M&A activity and collaborations. Also scienceindustries contributed to this publication. The report also highlights projects and companies that were part of the Swiss response to the COVID-19 pandemic, as the life science industry applied its R&D and manufacturing capabilities to deliver effective solutions in record time.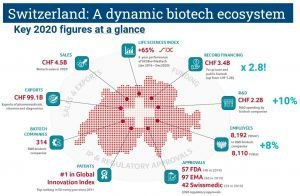 While the spotlight was on Covid-related projects (such as cloning of the virus, diagnostic development or vaccine production) Switzerland and Swiss biotech companies did not lose sight of other unmet medical needs and continued to invest heavily to expand their R&D and manufacturing infrastructure. Investors contributed new funds at record levels to advance the promising pipeline of the Swiss biotech hub. In total, R&D investments increased by 10% to CHF 2.2B.
The 2021 report highlights Switzerland's role in responding to the pandemic through basic research, vaccine manufacture and component supply, diagnostics and therapeutics. The industry also received a large number of international awards, which are yet another clear indication of the strength of the Swiss biotech sector and a reflection of the significant progress made in recent years.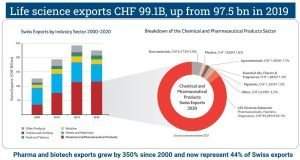 Swiss biotechs raised a total of CHF 3.44B – their best year ever. The Swiss biotech industry generated revenues of CHF 4.5B.
The Swiss Biotech Report 2021 sheds light on the most important trends, factors and sources of innovation, and summarizes topics and facts on the development of the Swiss biotech industry. This year's theme is "Aglity, leadership and innovation in the time of COVID-19". The report is available digitally at: swissbiotech.org/report.
---