Innovation
The life sciences sector as a solid foundation of the Swiss economy
The life sciences sector (pharmaceuticals, vitamins and diagnostics) represents the largest export industry of Switzerland. In 2022, it accounted for 39% of total Swiss exports and added a record CHF 109.6 billion (+0.6% over 2021) to the foreign export trade.
The sector is remarkably dynamic: while exports from all other sectors taken together grew by 61% in the twenty years from 2002 to 2022, the life sciences sector's contribution expanded by 255% over the same period (see Figure 1). In 2013, life sciences industry exports surpassed that of the longtime leading metals and machinery sector and have further extended their lead since then.
Despite the difficult economic environment (rising inflation, high raw material, energy and transport costs, increasing regulation), total Swiss exports grew by 7.2% in 2022 to an all-time high of CHF 278.6 billion. Some sectors, such as metals, machinery, chemical products, and watches, contributed especially strongly to the 2022 result. But of all major sectors, only the life sciences and chemical industry managed a sustained export growth over each of the last three years, including 2020 when the COVID-19 crisis resulted in a historic export slump for almost all industries. Both its volume and the remarkable stability even in difficult times makes the life sciences sector a solid foundation for the Swiss economy and foreign trade.
The immunologicals subsegment that includes many biotech products like monoclonal antibody therapeutics and vaccines contributed a significant proportion to the Swiss export growth in 2022, with an export value of CHF 47.8 billion (+3.9%). A CHF 3.2 billion reduction of human vaccine exports against 2021, in part due to reduced demand after the peak of the COVID-19 pandemic, was more than compensated for by strong growth in other product categories. The importance of the immunologicals subsegment has been steadily increasing over the years, and in 2022 was 11.6 times higher than twenty years ago. The broad product portfolio of the innovative Swiss life sciences industry therefore contributes to its role as a stable pillar of the strong Swiss export economy.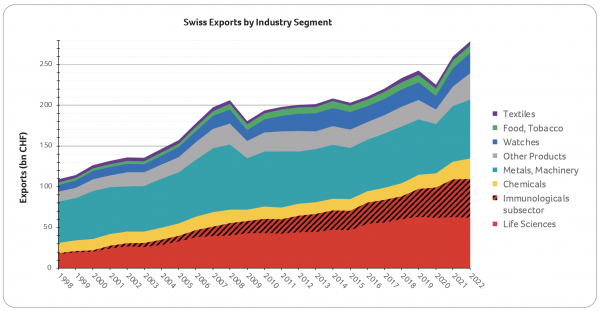 ---