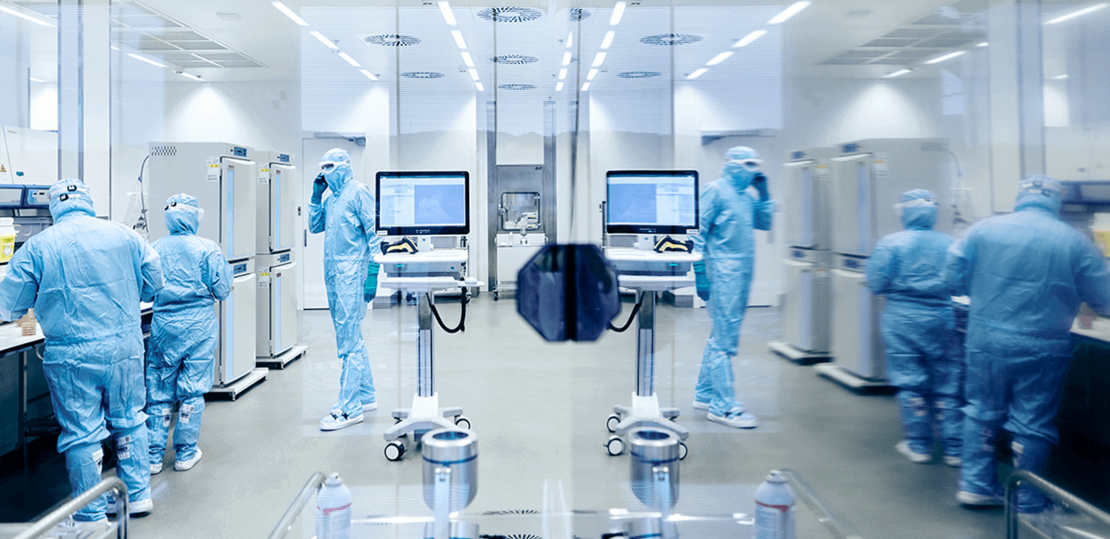 Innovation
Welcome to the medicine of the future!
At its Stein manufacturing site in Aargau, Novartis not only brings highly complex solid and sterile medication to market, but has also been producing a revolutionary medical application since August 2019: cell and gene therapy has the potential to cure blood cancer. An innovation for the entire pharmaceutical sector is that a personalised dose is manufactured for each individual patient. Dorothea Ledergerber, project manager of the new manufacturing facility, answers three questions about the new therapy, the progress of establishment of the facility in Stein, and the handling of patient data.
How does cell and gene therapy work?
In Stein, Novartis will initially manufacture therapies to treat two kinds of leukaemia. In contrast to the traditional manufacture of medication, a personalised dose is manufactured for each individual cell and gene therapy patient. Blood cells are extracted from a patient who has usually already undergone a variety of therapies and are sent to Stein. Here, some of the white blood cells, the T cells, are enriched and genetically reprogrammed to recognise and combat the cancer cells in the patient's blood. The reprogrammed cells are then sent back to the hospital and given to the patient intravenously. This is known as CAR-T cell therapy and gives a new chance to patients who had no treatment options before.
What does this mean for the handling of patient data?
In contrast to the mass manufacture of tablets, capsules or pre-filled syringes, a personalised dose of cell and gene therapy is produced for each individual patient. As this is personalised medication, Novartis is extremely careful to only use the personal data at the production facility that are actually needed for the manufacturing process and accompanying quality controls. These data include the patient's weight and type of leukaemia. Other data such as the medical history, state of health or country of origin are irrelevant to this process and cannot be accessed by the employees who prepare the cells. However, a unique identifier is used for every production step to ensure that patients get back their own cells.
How is the establishment of the new facility in Stein progressing?
The new technology has been applied in a new building in Stein since August 2018. After a project phase of only one year, the first clinical production run was successfully finalised in Stein in September. Some 230 new jobs in cell and gene therapy have been created in Stein to date, and there is potential for up to another 220 new jobs during the next few years. Almost all these employees previously worked in traditional chemical and pharmaceutical production at the Novartis facilities in Basel, Schweizerhalle and Stein. During a special programme lasting several months, the employees were trained for their new tasks at the cell and gene therapy production facility.  More than CHF 90 million in total was invested in this facility over the past three years.
About Novartis in Stein
Stein is a location of strategic importance for the production and launch of innovative medication. In addition to the two pharmaceutical production facilities Stein Solids and Stein Steriles, the site houses the new facility for innovative cell and gene therapies which took up commercial manufacture for patients worldwide in 2020. Stein is also home to Chemical Production's grinding and mixing centre and the CUBE Data Centre. Every year, some 1.3 billion tablets, capsules, ampoules, pre-filled syringes, injection vials and auto-injectors are manufactured, checked and packed at Stein and sent to more than 150 countries. Novartis currently employs around 1,800 people in Stein. Worldwide, around 109,000 people from more than 145 nations work for Novartis. More information: www.novartis.com.

---