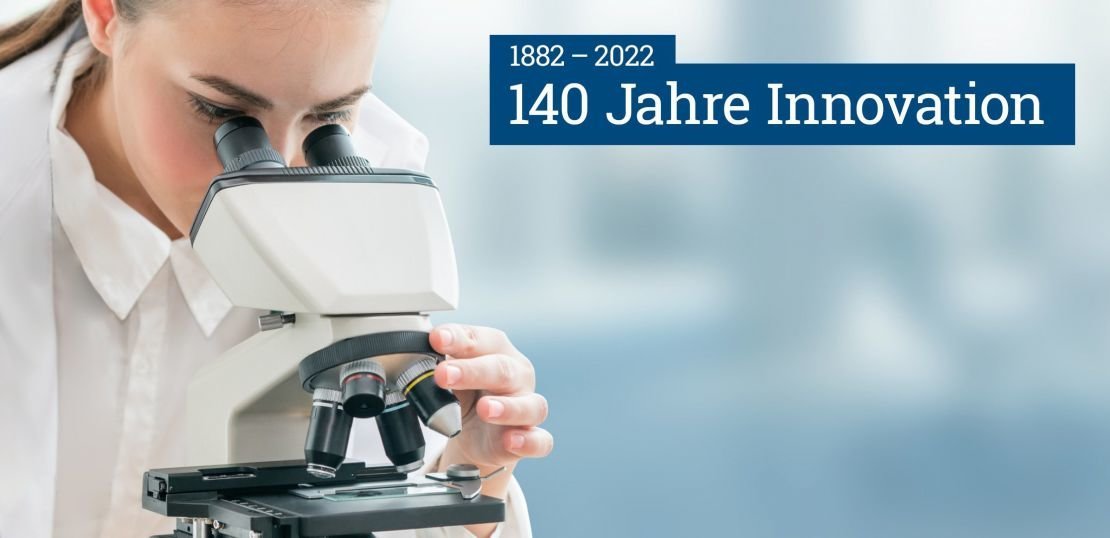 Innovation
140 years of innovation are just the beginning
On Sunday, 12 March 1882 at 10 a.m., the time had come: some 100 company representatives met at what is now the Hotel Schweizerhof in Zurich to establish the Swiss Society for Chemical Industry  (SSCI). 140 years later, under its new name scienceindustries, the organisation still pursues its primary objective of promoting good framework conditions.
The first items on the agenda for the SSCI included patent protection, customs tariffs and a Swiss-French trade agreement. 140 years later, the scienceindustries business association is still concerned with the core focus of the former organisation: competitive framework conditions for Switzerland as a centre of research, production and business.
scienceindustries represents the symbiosis of our Chemistry Pharma Life Sciences industries as well as research and science. Scientific findings lay the foundation for the innovations of our member companies in research, development and production: whether medicines, plant protection products, flavors and fragrances, food additives or new materials – they improve our quality of life, contribute to progress and create solutions to the major social challenges of our time such as climate change, demography and digitalisation.
The objective of continuing to be an international leader can only be achieved with strong partners. We are very pleased with the many comments from representatives of science, business, politics and civil society that have been addressed to us on the occasion of our anniversary. We will share them here and on social media (LinkedIn, Twitter, Facebook) in the coming weeks.
A look back at key aspects of our industries
In the run-up to our Annual General Meeting on 20 May – with FDFA Deputy State Secretary and Head of the Europe Division as guest speaker – we also want to highlight key aspects of our industries: products and their impact on our quality of life, facts and figures about value creation and employment, the framework conditions of yesterday and today, the interaction between science and industry, and aspects of social and ecological responsibility.
We will discuss selected aspects without claiming to be exhaustive and will also talk about the darker times of our industries, such as Seveso and Schweizerhalle. These events have made ecology and environmental hazards important public issues. With regard to chemical preparedness and disaster control, they have gained a new status in our industries (including with the Responsible Care Programme). Our members support the net-zero target for greenhouse gas emissions by 2050 as a fundamental target and are in favour of proactive and effective climate action.
Focus on the war in Ukraine – access to medicines is necessary
With our contributions to celebrate our 140th anniversary, we hope to provide an exciting insight into our innovative Chemistry Pharma and Life Sciences industries – in the knowledge that another topic is understandably dominating the public eye right now. As the media and politicians rightly call it, we are at a turning point: Russia's military invasion of Ukraine is highlighting the vulnerability of our economic and social order, but above all of our value system. Our thoughts are with the people in this conflict. We condemn the warlike invasion and our member companies fully support the sanctions imposed by the Federal Council.
This makes it all the more important that the transport of and access to humanitarian and medical goods continue to be possible worldwide. The European pharmaceuticals association EFPIA has made it a top priority to ensure that access to the necessary medicines is still possible in all affected countries. We support this appeal and, together with our two European umbrella organisations, EFPIA (European Federation of Pharmaceutical Industries and Associations) and Cefic (European Chemical Industry Council), we condemn this invasion.
Our Chemistry Pharma Life Sciences industries will contribute to improving the quality of life on this planet, both now and in the future. scienceindustries believes in progress and sees opportunities. 140 years of innovation are just the beginning.
Stephan Mumenthaler, Director of scienceindustries
---